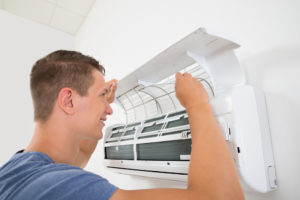 Are you considering an HVAC system upgrade? Don't overlook ductless. Zoned systems are gaining market share as homeowners look to save money on energy costs, and zoned systems offer benefits that forced-air systems don't. Here are three ways that zoning can reduce energy usage in your Lubbock, TX, home:
1. Targeted Heating and Cooling
Forced air systems are an all-or-nothing deal. Feeling cool and comfortable in the family room means making the rest of the house cool and comfortable too, even when no one is there to enjoy it. Ductless systems have up to eight indoor units connected to one outdoor unit, and each indoor unit has its own thermostat. With an indoor unit in the family room, you can be cool and comfortable there while the rest of the house fends for itself.
2. Customized Indoor Temperatures
It's hard to find a thermostat setting that makes everyone happy, but with zoning, you can. On chilly nights, you can turn down the heat in the kids' rooms when they go to sleep and keep the family room temperature warm while you catch a movie. Being able to set different temperatures in different rooms keeps everyone comfortable, and it can save a lot of money too.
3. Reduced Running Time
Amana ductless variable-speed technology delivers precise and efficient temperatures by using just enough energy to achieve the required thermostat setting. Forced air systems, by contrast, operate on the all-or-nothing principle. They are either all the way on or all the way off.
Many Amana zoned systems are Energy Star-qualified for state and local tax credits and utility company rebates. The energy efficiency of these units can save up to 40 percent on utility bills compared to forced-air systems. To check out some energy-efficient zoned system options, or to learn more about saving money with ductless heating and air conditioning in your Lubbock, TX, home, visit Bruce Thornton Air Conditioning or call (806) 589-1014.