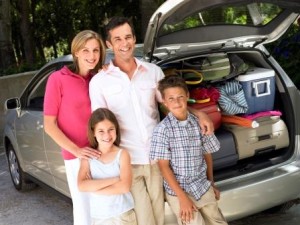 It makes a lot of sense to conserve energy while you're away on vacation since you won't be there requiring all the comfort and conveniences major appliances provide. Saving energy will cut energy consumption, but before you turn everything off, it's helpful to know what's practical and what may cost you more in the long run.
Shutting Off the Air Conditioner – Not a Good Idea
Turning off the cooling system is a sure way to save energy in the short term, but it carries risks. If it's overly hot or humid, your home and its contents may suffer. Any indoor plants or pets you leave behind may also be at risk with uncomfortably warm temperatures. The refrigerator and freezer will work overtime, and the warmth may make the natural humidity in the air condense on the doors, promoting mold growth.
When warm temperatures and humidity over 50 percent combine, mold grows more aggressively, as do dust mite populations. Dust mite waste is one of the most common indoor allergens that can be difficult to eradicate, especially in homes with carpeting, cloth drapes and upholstered furniture.
Managing mold is also challenging once it gets a foothold because it can live in hidden areas in fibers, inside walls and even within the HVAC system's ductwork. Although not as common an allergen as dust mite waste, mold can be irritating, and some types can cause serious illness.
Turning the System Up
The safest way to conserve energy on vacation is to turn your cooling system up by four degrees. Each degree you increase it saves from three to five percent of the energy you would otherwise use. The system will run enough to keep humidity levels between 30 and 50 percent, the ideal levels for an indoor environment.
It's also a good idea to have your cooling system serviced by an HVAC professional before you leave. The cleaning and adjustments the technician makes will help you conserve energy on vacation and well afterward, since fine tuning the system brings keeps it as energy efficient as possible. The HVAC technician may even spot small problems that can quickly escalate into larger issues, resulting in a loss of cooling and an expensive repair.
If you have had your annual system check already, check and change the air filter before leaving. A clean filter prevents many common problems associated with cooling systems. Ensure the outdoor condenser is free of overgrown vegetation to prevent blocked airflow and excessively dirty coils. Give your house sitter the phone number of your HVAC contractor in the event the system stops running.
While you can turn the temperature up indoors more than four degrees, you'll risk overburdening your system when you do return home and turn the temperature down. One of the easiest ways to manage temperatures while you're away is with a programmable thermostat that has WiFi capabilities. You can monitor your system remotely, and as your return approaches, you can gradually lower the temperature to avoid having to run your A/C for an excessively long period.
Other Ways to Save Energy
Close the window coverings for the south- and west-facing windows before leaving home to cut down on the radiant heat coming indoors. You can also turn off the water heater, or at the very least, turn it down to 120 degrees if it's electric. Use the vacation setting if it's a gas water heater to avoid having to turn off the pilot and the gas supply.
Turn off your electronics to conserve energy on vacation. Most of them use power and emit heat even when they're not running. If they're plugged into power strips that don't have surge protection, it's a good idea to unplug the strip at the wall.
Contact the pros at Bruce Thornton Air Conditioning to help you conserve energy on vacation by providing expert A/C servicing and maintenance today, or call 806-589-1014 to schedule an appointment.