Employment @ BTAC
It's Not a Job, It's a Career!
Are you tired of working in a job that's not getting you where you want to be in life? Do you want more respect than you currently get from your coworkers and your employer? How would you like to experience the pride that comes from knowing you're working with the Best of Lubbock?
APPLY NOW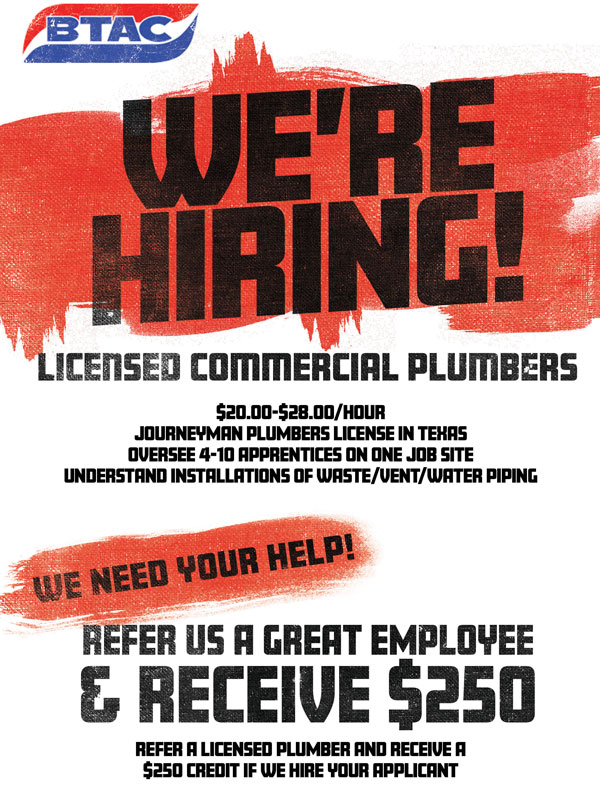 Working at BTAC
Not only is BTAC the company that was voted Best A/C & Heating Company and Best Plumbing Company, it's also the company that was voted the runner-up as Lubbock's Best Work Place. And that's up against all employers in town across all industries. We're considered as one of the top employers in Lubbock, in any type of business. You could come be a part of it all.
If you're one of our competitors, maybe you've been in business for yourself, and you're tired and weary…of the paperwork, of customers not paying you, and of all the other hassles. Do you wish you could return to a simpler time and just do the part of the job you enjoy? You wouldn't be the first to feel that way, and you wouldn't be the first business owner to negotiate a deal with BTAC and join our team. Give us a call and start that conversation!
We employ people for the following positions:
Construction and Service Plumbers
HVAC Installers and Service Technicians
Sheet Metal Mechanics and Fabricators
Custom Metal Fabricators
Refrigeration/Hot Surface Technicians
Welders, Drivers, Equipment Operators
Administrators, and more
Learn more at the links below:
Why Work at BTAC:
take it from us…we're the best!
Employee Testimonials:
don't take it from us…listen to what our teammates have to say!
Employment Application:
still not sure BTAC would be right for you? Start a no-commitment conversation by filling out an app right here online. It's just like sticking your toes in the water before jumping in!