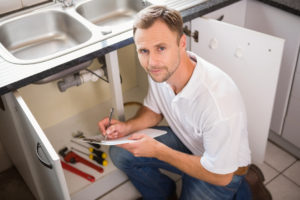 Whether you nibble at your nails, chomp on gum, or slouch excessively, we all have bad habits that we'd like to ditch. While you may notice your bad habits and try to improve, you may not recognize the bad habits that are adversely affecting your home's plumbing. Isolate and kick these bad plumbing habits and you'll preserve both your pipes and your budget. Here are five bad habits that damage plumbing.
Neglecting Plumbing Maintenance
You've heard a steady drip, drip, drip coming from your bathroom sink for several weeks now, but you can handle it, right? It's only a minor annoyance, isn't it? You may be concerned with paying a plumbing technician to repair what appears to be a tiny leak, but it's always best to fix it sooner rather than later so your water bill isn't affected. It doesn't take long for a non-stop drip to add up.
In addition to repairing leaks, our plumbing technicians can also clear clogs, check your water pressure, and clean your drains. Call and schedule an appointment with one of our plumbing technicians if you identify any issues with your plumbing.
Abusing Your Garbage Disposal
Few of us enjoy washing the dishes, and it can be tempting to speed up the process by dumping everything possible down the drain. After all, the garbage disposal will just take care of it, won't it? No, it won't. Your garbage disposal may be helpful at breaking up many types of waste, but it isn't invincible. If you're throwing fibrous materials, expandable foods (like rice), potato peels, eggshells, bones, fruit pits, or non-food items down your drain, you're likely not only damaging the actual garbage disposal, but also the connected pipes.
Save your garbage disposal by tossing these materials into a nearby garbage can.
Letting Hair Down Your Drains
Maybe you shave over your sink or let strands of hair wash down the shower drain. It can be easy to let hair go down the drain without a second thought. These strands of hair may seem inconsequential, but they can cling to soap scum and other materials in your drains, leading to clogs that can further damage your pipes. Instead of letting that hair flow free, trap strands in mesh drain screens that you can place in your sink and over your shower drain.
Overusing Chemical Drain Cleaner
You're tired of water draining slowly from your bathroom sink every time you try to wash your hands, so you dump chemical drain cleaner into the sink. Problem solved, right? Not quite. While that drain cleaner may be effective at clearing those small clogs, but they often cause more damage than you may think. Those powerful chemicals not only eat through clogs, but they also eat through your pipes. If you have a septic tank, then those chemicals can also harm the waste-eating bacteria living in your tank. That harm can result in sewage backup, and no one wants that.
Instead of overusing drain cleaner, use pipe-clearing tools or call on your plumbing technician to remove clogs. You can also mitigate the chances of your pipes clogging by being more careful about what you allow down the drain.
Using Your Toilet as a Trash Can
As with your garbage disposal, it can be easy to toss waste into your toilet but also as with your disposal, this isn't a good idea. Some homeowners flush feminine hygiene products, wipes, kitty litter, paper towels, cotton swabs, and other garbage down the toilet. While toilet paper is made to dissolve in water, these other products won't do so, even if they are labeled as "flushable." Unless something is biodegradable, then don't use your toilet as a trash can, or you'll inevitably damage your pipes.
Bad habits can be difficult to kick, but the first step is always recognizing the problem. Now you're ready to cut water waste and preserve your pipes. Just don't forget that there's professional assistance a call away. To schedule plumbing repairs, call BTAC at 806-589-1014.
Image provided by Shutterstock